Power Box PB40-600
POWER BOX « PB40-600 »
Independent Power Box to supply power to electronics IT/TELECOM and lighting devices in an emergency situation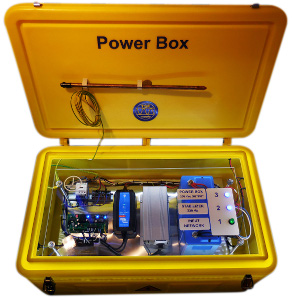 The PB40-600 comprises of a 12V-40A LiFePO4 battery and a 600Wc inverter.
Available options : solar kit and twice the power.

The PowerBox meets the demand of energy on the field, to be used inside a tent for instance, where the electric supply from the city or a generator are present, but not reliable.
The "Solar charge" option is possible when there is really no 230Vac mains voltage.

• If it is present, the 230 Vac mains voltage (city or generator) is stabilized by the PowerBox and supplies 2500w.
This signal charges the battery.

• Where there is no mains voltage : 420w are available.
This allows the use of some office eqipment for a couple of hours, or more if a solar kit simultaneouslycharges the system.
(Those are minial values : it is always possible to adapt the PowerBox to higher requirements).

And also :
Packed with grounding, along with the 230Vac connexion cable to a generator,
Easy and clear operation, fully automatic,
option : foldable flexible solar panels,
option : 2 points LED lighting array, to be used inside or outside, for a 45 m2 tent,
"All in 1" ; easy to identify ; easy to store ; easy to deploy.

Download the specifications (English/French)
AC/in & Out Connexions and Solar charge
Sid view : Drain
Option : 180 W
solar charge kit