Welcome to TSF Supply
TSF SUPPLY :

26 years of professional radiocommunications - Installation - Training

!
Discover our POWER BOX « PB40-600 » : Independent Power Box to supply power to electronics IT/TELECOM and lighting devices in an emergency situation.
AIDEX Brussels 2019 W13 & Th14 of november.



stand F15
Thank you to all our visitors at Aidex 2018

-------------------------------------------------------------------------------
Technical training / Studer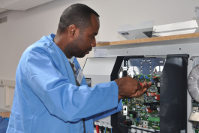 TSF SUPPLY : A professional and experiences team.

TSF SUPPLY : takes care of sales, installation, preparation and shipping of equipment as well as the training needs of your staff.

As always our clients can count on :

- a reliable administative follow-up to all our shipments
- publishing of relevant technical documents
- our famous and usefull "guidelines"
The origin of the name TSF SUPPLY doesn't come from the world of Telecom or "TV sans Frontières" but is a nod and a wink to Samuel MORSE, founder of wireless telegraphy (Télégraphies sans Fil) - becoming synonemous laterly with the radio of our grandparents, followed shortly after by G. Marconi in 1895 with the worlds first transmission over a distance of 1,5 Km

Having added the word "SUPPLY" : evidently radio-communication forms our core business (and our passion), our other sectors of activity like Energy, tools and IT serve to re-inforce our prowess in our field of expertise.TENDER APPEL D'OFFRE
Email :
info@tsfsupply.be
Tel : + 32 2 344 4500
Fax : + 32 2 344 3500
From the airport :
Taxi (between 20 and 45' - price about 35€)


Direct train (station under the airport), stop at ''gare du Nord'', then tram 25 - Direction ''Gare de Boondael'', stop at ''Bienfaiteurs''. Duration : 45'
From Brussels / Gare du Midi (Thalys)
Tram 2 or 3 to Gare du Nord then : Tram 25 - Direction ''Gare de Boondael'', stop at ''Bienfaiteurs''.
TSF Supply sprl
Av Eisenhower 28
1030 Brussels - Belgium