generator set
Generator sets are the most commonly used source of electricity where a permanent mains supply doesn't exist. Whereas a solar system is the most appropriate for supplying electronic loads (laptops etc), generator sets are better adapted for supplying heavy loads. However they require significant maintenance.
23 03 2012 v1
We supply small to medium power systems upto 3KVA by the unit.

At the moment of shipping we assemble the order in kit form, if requested, with standard accessories and other consumeables : filters, jerrycan, funnel, AC and DC cables etc...

In the spirit of "nominal power ratings" for generators (for example "2KVA") isn't the power rating that your generator can operate continuously. The users manual supplied clarifies this point and gives realistic operational figures. Typically expect a 30% reduction from maximum power.

Don't loose sight of the fact that the AC output voltage of a generator is rarely stable. The risk of destroying equipment (electronic) that is directly connected is real. The use of a STABILISER is required.

The unit request a direct and short ground connection ( supplied as spare on request).
Over the last few years manufacturers seem to have placed the emphasis on the reduction of NOISE POLUTION.
Generator Set HONDA EX7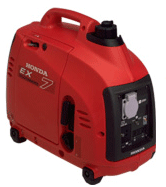 Advantage : low sound level
Maximum Power rating (230Vac) : 0,7KVA
Continuous Power rating (230Vac) : 0,6KVA
Voltage regulator : CYCLOCONVERTER
Current load : 2.8 A (230Vac)
Protection level : IP23
DC continuous current : 6 A / 12Vdc
Output sockets : 1 socket
Motor Type : 4 stroke OHV GXH 50
Motor power : 1.84 kW / 2.5 hp
Tank capacity : 2.3 litres
Endurance : 5.5 - 7.5 hours
Sound level at 7m : 83dB (LW-A)


Size L x W x H : 450 x 240 x 380mm
Empty weight : 12 kg
Fuel type : petrol 95 octane un-leaded
+ Low Oil level warning
+ Overload warning

Generator Set : HONDA EU10i

Maximum power (230Vac) : 1.0 kVA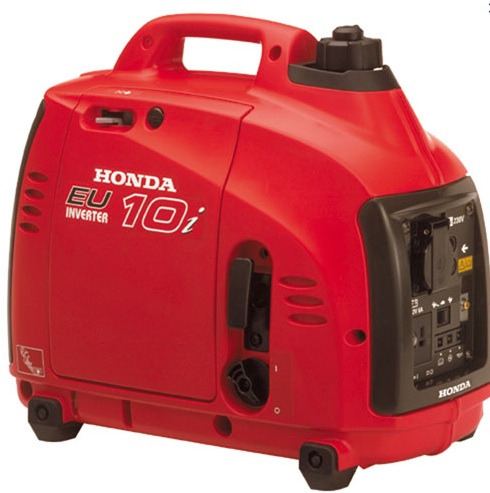 Continuous power (230Vac) : 0.9 kVA
Voltage regulation : INVERTER
Current load : 3.9 A (230Vac)
Protection level : IP23
DC continuous current : 8.3 A / 12Vdc
Output sockets : 1 socket
Motor type : 4 stroke OHV GXH 50
Motor power : 1.84 kW / 2.5 hp
Tank capacity : 2.3 litres
Endurance : 4.5 - 8.0 hours (Eco)
Sound level at 7m : 83dB (LW-A)
Size L x W x H : 450 x 240 x 380mm
Empty weight : 13kg
Fuel type : petrol 95 octane un-leaded
+ Eco mode switch / capable of being coupled in parallel