HF-VHF MARINE
The whole ICOM Marine range is available, conform to the latest available norms, and all the accessories allowing you to face any situation : antennas, cables, and so on. HF and VHF Marine equipment, fixed mount, base/mobile and portable. For commercial, fishing and leisure activities.
HF - ICOM GM800
BLU marine GMDSS MF/HF, 1.6-27.50MHz, 150W PEP, 24V, 1195 channels, with ASN Class A, dust- and waterproof protection IPX7, colour LCD display and keypad.

The GM800 BLU complies with the GMDSS (MED) regulations according to the SOLAS convention for the commercial vessels in international shipping.
Continuous scan of the 6 distress channels, in rotation.
ASN multi-tasks function allowing to display up to 7 messages (sent or received).
User-friendly interface
Large 4,3" LCD colour display (100 x 60 mm) with night and day modes, ensuring good readability even in low light conditions.
Built-in front loudspeaker : waterproof, clear and loud sound, (10 W audio with the optonal external loudspeaker).
Water- and dustproof IPX7 - front panel seawater and rainwater protection (1 m depth of water for 30 minutes).
NMEA 0183 compatible for GPS connexion
Power : 150 W PEP
Built-in 24 V DC-DC converter
VHF - ICOM M330GE
Fixed mount Marine VHF 156-163MHz, 25W, Class D ASN, IPX7 dust- and waterproof, 70dB, AquaQuake function.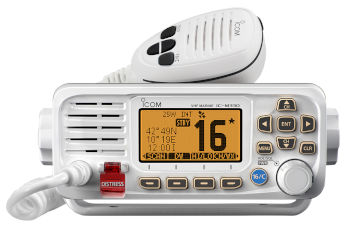 Compact size
ASN Function
High performances receiver (70dB)
GNSS receiver (GPS, GLONASS, SBAS) with external GPS antenna
AquaQuake water draining function
IPX7 protection : sea/rainwaterproof (1 m depth in water for 30 mn)
Available in black or white
Ultra compact, palm-size body for an easy installation : Dimensions 156,5 (l) x 66,5 (H) x 110,1 (P) mm for an easy integration on any dashboard.
"Position request", "Position report", "Polling report" allow you to share your position between your vessel and surrounding ships equipped with compatible devices. The position information can be transmitted to the receivers in the NMEA0183 formatting (radar, tracers, etc. ). The "Polling request" checks the presence of a ship (if she is within transmission range). Functions disabled by default ; TSF Supply can program them for you.
VHF - SAILOR RT6248
High RX/TX performances
6W Loudspeaker
Professional highest quality SAILOR handset
User-friendly and easy to use
High contrast display / perfect vision night/day
Included : unique SAILOR "Replay" function - play back the last 240 sec.
Large tactile buttons and dials for easy operation
The VHF SAILOR 6248 transceiver is rated waterproff for both IPx6 and IPx8, making it possible to install on open workboats or outside deck areas.