VHF AIRBAND
What we offer here is a range of equipments to be used on the ground for communications with aircrafts in order to secure the place. Both ICOM and BECKER brands offer easy to use equipment, available as a handset portable station or as a ATC certified station, transportable or mobile.
We supply the full complement to a base station : backup power supply, coaxial cables and VHF gain antenna.
1. AIRBAND - PORTABLE TWO-WAY RADIO
For your aeronautical radio communications we offer various equipments for various purposes and situations.
The entry-level model is the IC-A15 ; should you have more needs, we have the very featured and new ICOM IC-A25 allowing radio communication between the ground and the pilot, on the airband frequencies 108-136 Mhz ; please note that such radio use is subject to authorization and can only be done in specific cases, in full respect of the local regulations.tant les règlementations locales.

IC-A25 : Specifications

Large, High visibility LCD
Compact (58.9 × 148.4 × 31.8 mm) and light (384 g with battery), this handheld is fitted with a 2.3 inch large, high contrast and highly visible LCD (incl. "night/day" mode).
«Flip-flop» channell recall
The IC-A25NE/CE stores the last 10 channels used. You can easily recall those channels by using the directional keys, the channel knob or the keypad.
Easy to use
The IC-A25 has 300 memory channels (12 channels x 15 groups) with alphanumerical identification, and an emergency key transmitting a direct call on the 121,5 Mhz frequency.
The IC-A25NE version includes also :
Integrated Bluetooth to use hands-free accessories, simplified navigation by GPS positioning and the use of waypoints, advanced VOR navigation functions (OBS, CDI, etc.) along with a "Near Station" search function to find VOR stations
External DC jack
The external DC jack allow you to uoperate the radio when the equipment is in charge with the BC-224 wall-charger or the CP-20 ciagr-lighter charger.
Waterproof
IP-57 compliant (dust and water).
Please note that this equipment is not qualified as on-board equipment and cannot therefore replace the on-board radio
2. AVIONICS MOBILE RADIO (ground)
The "Base/Mobile" Icom IC-A120E is perfectly designed for ground cmmunication, installed either as a base or a mobile station, with the antenna and the appropriate power supply (mains 230Vac or 12-24Vdc).
Technically :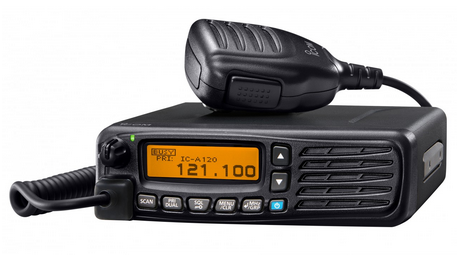 Channel spacing 8,33/25 kH
High readability full dot-matrix LCD
New ANC and ANL technologies (Active noise reduction) to reduce background and pulse-type noises
Optional Bluetooth Headset Connectivity Interface to connect compatible wireless accessories (Icom VS-3 earphone, Peltor headsetetc..)
Speaker in the front panel for a better audio
200 memory channels available with 12-characters channel names (stored in the EEPROM to prevent memory deletion)
"side tone" function to be used with a headset (requires OPC-871A)
Scanning "intelligent" (ON-hook) and advanced (VFO or priority)
Microphone HM-217 (optional) with up and down keys.
Usable even in extreme conditions (IL-STD810 and Ingress protection standard IP54)
Compact size
Numerous accessories available : noise-cancellation headsets (active and passive), desk microphone SM26, speaker-microphone HM217, speaker-earphone, and antennas : base 0db or gain antennas, and mobile 0db.
3. AVIONICS ONBOARD : IC-A220

The IC-A220 is ETSO certified and is proposed as onboard equipment.
Follows the new regulations : channel spacing 8,33 and 25 kHz
Panel mount onboard primary radio ; CE certified and accepted as an ETSO/TSO radio
Excellent visibility : OLED screen with large characters


Automatic squelch
« Flip-Flop » channel recall : automatic storage of the channels
ANL noise reduction : automatic reduction of pulse type interferences
Intercom integrated for two headsets
Dualwatch and priority watch functions
Standard avionics rack
Delivered with a confomity certificate FAA FORM 8130-3 accepted by EASA under reciprocal acceptance policy
4. AVIONICS ACT BASE STATION "Air Traffic control" certified



For your base station, we offer the equipment of the BECKER product line, ATC certified and designed to be used as ground station.
The GT6201 unit (6w or 10w) can be used for ground applications and is also suited for portable or vehicle installation (GK615). A loudspeaker microphone is also available, along with the following accessories :
1A415 Whip antenna
1A415-1 Steel-band antenna
ACCESSORIES PORTABLE VHF/AM TRANSCEIVER
| | |
| --- | --- |
| 1A415-2 | Multiflex antenna |
| 1AD415 | Adapter UHF |
| 1BA016 | Rechargeable Battery 12V/2.2Ah |
| 1BC415 | Battery charger |
| 1CC415 | Carrying case (soft) |
| 1K415 | AC-Connector cable |
| 1KA415 | Car battery cable |
| 1KA615 | Car battery cable |
| 1MC012 | Microphone holder |
| 1PH012 | Speaker/Microphone for GK 415-() |
| 1PM012 | High performance dynamic microphone |
| 1PM415-1 | Standard dynamic microphone for GK 415-() |
TSFsupply is a member of the distribution network of BECKER.