HF CODAN radio
CODAN propose HF application for portable, mobile and base HF applications.
The UU+ software offers a DATA and INTERNET link from your HF station.
TSF SUPPLY holds stock for customers, resellers or vendors accessories for 8528, 9360 9780 and NGT units aswell as spare parts for network maintenance.
TSF SUPPLY is Codan Technical Accredited Center.
CODAN ENVOY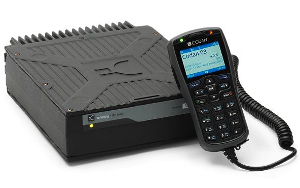 Codan's Envoy 2200 series HF Transceiver delivers dependable, clear, trouble-free voice and data communications in challenging environments. With 125 W of power, Envoy is offered in mobile and base station configurations.
The CODAN Envoy X1 station offers 100 channels and is available in base or mobile configs.
The CODAN Envoy X2 offers up to 1000 channels ; optional GPS connexion through a standard serial port. Base of moble.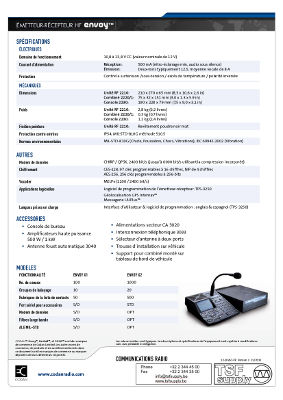 clear, reliable analogue and digital voice communications
125 W Rf output power
industry-leading Rf performance
intuitive programming and operation, and USB Smartloader
Software-defined architecture
ip remote controllable
ethernet/USB connectivity
High-resolution colour display
Multi-lingual graphical user interface
integrated robust 3012 compatible data modem
ceS/aeS encryption
powerful pc-based programming software
Desk console for base stations
Calling systems :

4/6 digit Selcall based on cciR 493-4 (compliant with Un open Selcall)
feD-StD-1045 aLe
MiL-StD-188-141B aLe
Download the Codan Envoy folder (pdf / 262 Ko)
NEW :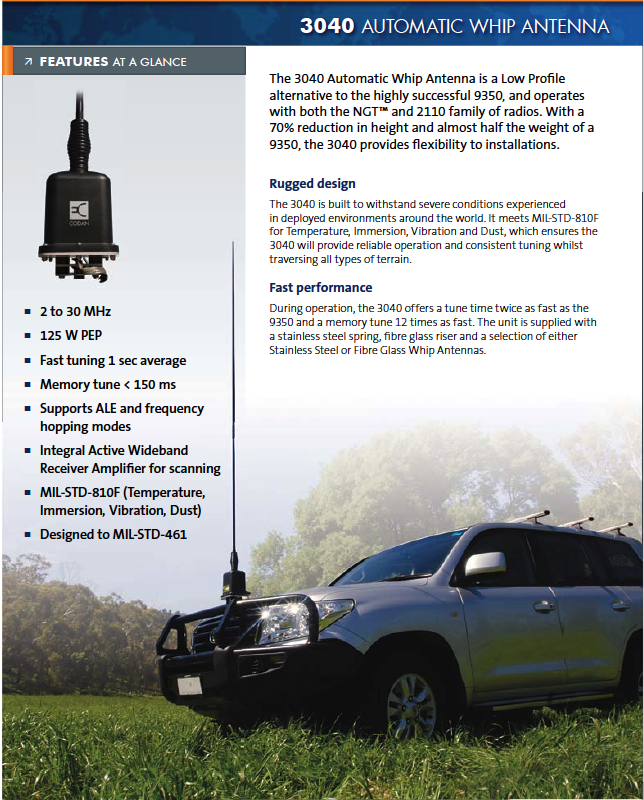 Codan's core products are high frequency (HF) radio. All of our products have an exception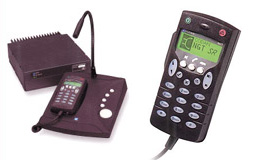 al reputation for performance, quality and reliability and cover all your base, mobile and portable HF communications needs.

Our NGT range of transceivers are easy to operate and available in a range of models to suit any application – from basic voice communications to data, email, fax, chat, GPS tracking, and interoperability according to FED and MIL standards. Plus with Codan's Easitalk®, you're sure to enjoy clear communications.

A range of accessories including modems, antennas, high power amplifiers, crosspatches, telephone interconnect and split site/remote control components are available to configure your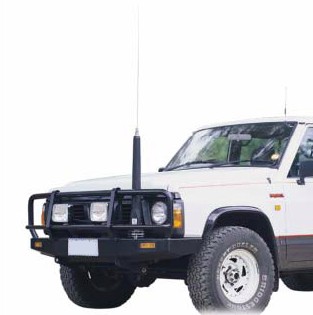 transceiver for any voice, data, fax, email or chat application. Like our internationally acclaimed 9350 mobile automatic tuning antenna, all products are built to the highest quality and reliability.

Codan's NGT VR is the ideal solution to meet your voice communication needs for base and vehicle applications – all in a single cost effective unit. It's easy to use with an innovative, mobile phone-like handset and one-button shortcuts.

Codan's NGT SRx is the ideal solution to your modern HF needs and can be deployed in base, mobile or portable configurations – all this in a single cost effective unit. With a General Purpose Interface Port (GPIO) you can connect countless devices such as crosspatch, telephone interconnect, or additional modems to name a few. The NGT SRx is easy to use with an innovative, mobile phone-like handset and one-button shortcuts.

Codan's internationally acclaimed 9350 Automatic Tuning Whip Antenna is designed for mobile operation with transceivers that have a large channel capacity.
Rugged design
The 9350M antenna is constructed to withstand and operate in severe environments and temperatures. Its main section is constructed of fibreglass reinforced nylon and it exceeds the shock and vibrations requirements for MIL-STD-810 and.
Fast, optimum tuning
Typically, the 9350M takes only a few seconds to tune to any frequency
High radiation efficiency
The 9350M antenna has a comparably high rate of radiation efficiency, rated for maximum voice power of 125 watts PEP.
Continuous tuning
The whip antenna provides continuous tuning to any required frequency over the transmit/receive operating range of 2–30 MHz.
Two whips supplied
Two whip top sections are provided with the 9350M antenna – the primary whip encased in polyurethane covered fiberglass, and a shorter backup whip made from stainless steel.
Sensitive to weak signals
When in Scan or Free Tune Receiver mode, a broadband amplifier is activated. This makes the antenna sensitive to even the weakest signals over the entire frequency ange.


The warranty terms is 3 years. TSF SUPPLY is a Technical Service Center of CODAN.